Advanced Obedience- Application and Maintenance
(for graduates of our beginner obedience)
Canine Resolution's advanced course is an ongoing class that meets every week (meaning you can start this class at any time once your dog has completed Canine Resolutions beginner obedience course.) Advanced class is reserved for the first 8 dog handler teams registered for each night. Come when ever you want for as much as you want but do not forget to register 24 hours in advanced for each class night that you plan on attending.
In this course we will practice the previous learned commands, increasing the 4 D's while applying them in every day situations.
In this ongoing class we will practice the obedience and manners on and off leash, increasing the 4 D's applying them in everyday situations. This class is for the person who wants the ultimate trained pet, for the person who competes or to tune up the previous learned obedience. . This class is held indoors as well as outdoors with weather permitting. Every class offers something new and exciting!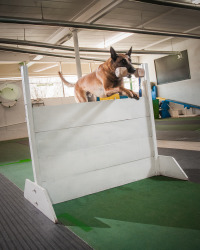 Lessons taught:
1. Canine Good Citizen and therapy test requirements
2. Real world situations/distractions
3. Advanced heeling exercises
4. Stand stay
5. Place with increased distance
6. Finishes
7. Competition obedience
8. Tricks and agility
9. Off leash obedience and manners
10. Field trips, outdoor obedience, games and contests
Note: the first class is for DOGS and handlers! You can start at any time, but you will need to register online for each night that you plan on attending at least 24 hours in advance. Class is limited to the first 8 dog / handler teams. All payments are to reserve a spot in the class and are non-refundable!
Fee: $30.00 per class